PLEKHANOV RUSSIAN UNIVERSITY OF ECONOMICS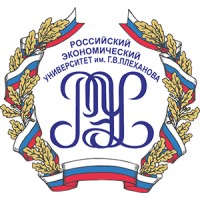 Our University, established in 1907, is the oldest institution with focus on economics in Russia's tertiary education. It is also one of the biggest and most respected universities in Russia. Throughout the more than a century of its dedicated work in higher education, Plekhanov Russian University of Economics has accumulated the scientific potential, teaching experience and strong links with the national and international business community and delivers results that very few other universities can match.
Many of our graduates have become famous as government officials, politicians, reached the
leading positions in business and science. We are also proud of our graduates who work in national and international higher education. Here at Plekhanov Russian University of Economics, we have always background with hands-on knowledge and experience.
Plekhanov Russian University of Economics has significant experience of international cooperation. Around 100 universities from over 30 countries cooperate with us. Furthermore, we have Student Exchange and Double Degree Agreements with over 80 Partner Universities from 25 countries.
We are offering a good choice of educational programmes in Economics, recognized nationally and internationally. With exciting, involving and truly international atmosphere, we are happy to meet new international students.
More information can be found on University's official website.